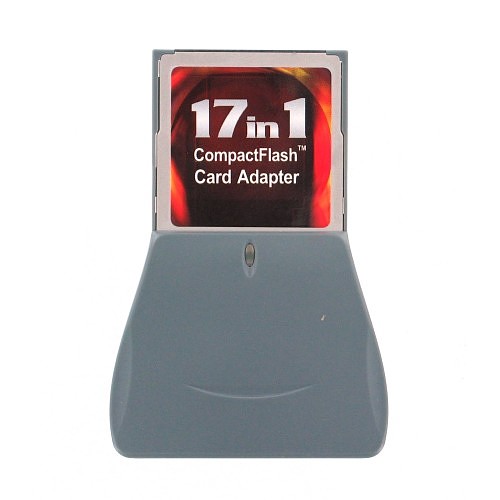 P/N:CF17
PSI CF 17-in-1 Adapter (P/N:CF17) for SD, miniSD, MMC, MMC plus, (MMC 4.0), MMC mobile, (RSMMC 4.0), RSMMC, TransFlash, (with SD adapter), MS, MS MagicGate, MS Select, MS Duo, MS Duo MagicGate, MS Pro, MS Pro MagicGate, MS Pro Duo, MS Pro Duo MagicGate and XD memory cards.
Note: Sony 1GB memory Stick Pro is not supported!
PRICE. Please click here for updated price.

WARRANTY & SUPPORT. Tech support from manufacturer and PSI. 1 year warranty.

TO ORDER OR INQUIRE. Please click here to place an online order or send e-mail inquiry to sales@psism.com or call (301) 572-2168. We accept Visa, MasterCard, Discover and American Express as well as government and university POs. International orders may be conditionally accepted. Please click here to order or view our ordering information page.
| New Products | Notebook Enhancements | Memory Products | PCMCIA Cards / Readers |
| Router Memory | Palmtop Memory Cards | Audio & Video | Consumer Electronics | USB Products |
| Firewire Products | Wireless Products | Tronlink Products |

Copyrightę 1995 ~ 2011 Primary Simulation, Inc. (PSI)
2963 Mozart Drive, Silver Spring, MD 20904 U.S.A.
Tel:(301) 572-2168, Fax: (301) 847-0739
10:00AM ~ 6:00PM U.S. Eastern Time
Email: sales@psism.com