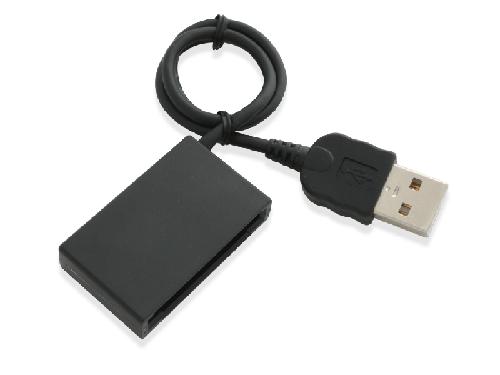 Model # EXP-USB
USB to ExpressCard 34/54 Adapter for
XU870 EX720 V740 and other Mobile Wirelss Broandband Cards
Features:
Power comes from USB bus, no remote power needed
Compatible with all USB 2.0-MODE ExpressCards including many WLAN,
WiMax, 3G (HSDPA and CDMA) and memory Compact and portable design with low power consumption
Up to USB High Speed 480Mbps (Megabits) interface access to host systems with USB 2.0

LED status indicator
Easy Installation
RoHS Compliant
CE Approved
Host Connection : USB 2.0

Devices Accepted :
USB 2.0 Based ExpressCard | 34 or ExpressCard | 54
NOT COMPATIBLE with any PCIe based ExpressCards - examples include
SATA, FireWire, Gigabit Ethernet, USB 2.0, etc.
System Requirements :
PCs with USB running Windows ME/2000/XP/Server 2003/The Vista or later
Macs with USB running Mac OS X
Macs with USB running Mac OS 8.6 or later or Mac OS X
Unsupported, but known to work with USB 2.0 capable BSD and Linux distributions

Transfer Rates :
High Speed 480Mbps (Megabits)

Electrical Characteristics :
Operational Voltage: DC +5.0 Volts ▒ 5% direct from USB

Power Requirement: 100mA (max.)

Certifications:
FCC Class B
CE Class B

Operating Environment :
Temperature operating: 0░ C to 50░ C
Relative Humidity operating: 20-85% non-condensing

NOTE:

The DEVICE WILL NOT WORK WITH any ExpressCard using the PCI Express (PCIe) portion of the ExpressCard standard. This is the majority of ExpressCards that do any other than the devices discussed above. Any real host adapter for SATA, FireWire, Ethernet, USB 2.0, etc. WILL NOT WORK WITH the EXP-USB USB 2.0 to USB 2.0 Mode ExpressCard 34 / 54 Host Adapter.





PRICE. Please click here for updated pricing information.


WARRANTY & SUPPORT. Tech support from manufacturer and PSI. 1 year warranty. For tech support and/or RMA, please go to http://www.psism.com/support.htm.


TO ORDER OR INQUIRE. Please click here to place an online order or send e-mail inquiry to sales@psism.com or call (301) 572-2168. We accept Visa, MasterCard, Discover and American Express as well as government and university POs. International orders may be conditionally accepted. Please click here to order or view our ordering information page.
---
| New Products | PCMCIA Cards / Readers | Industrial / Rugged Memory Products | SRAM & Linear Flash |
| SATA & IDE Flash Drives | Industrial ATA & CF Cards | Embedded Memory | Tronlink Products |


Copyrightę 1995 ~ 2011 Primary Simulation, Inc. (PSI)
2963 Mozart Drive, Silver Spring, MD 20904 U.S.A.
Tel:(301) 572-2168, Fax: (301) 847-0739
10:00AM ~ 6:00PM U.S. Eastern Time
Email: sales@psism.com