2.5" PATA/IDE flash drives have the same form factor as the 2.5" laptop IDE hard drives. This is a drop-in replacement for the laptop hard drive. They are your great choices for the rugged PCs, industrial PCs and embedded PCs.
For your mobile, reliable, mission critical & ruggedized storage needs, commercial and industrial grades are offered. For an overview of the nomenclature used in the NAND flash storages, please read here. (Courtesy of APRO Co., Ltd.)

We now distribute the brands shown below. You may click on the link to jump forward. For industrial SLC SATA flash drives, please check here.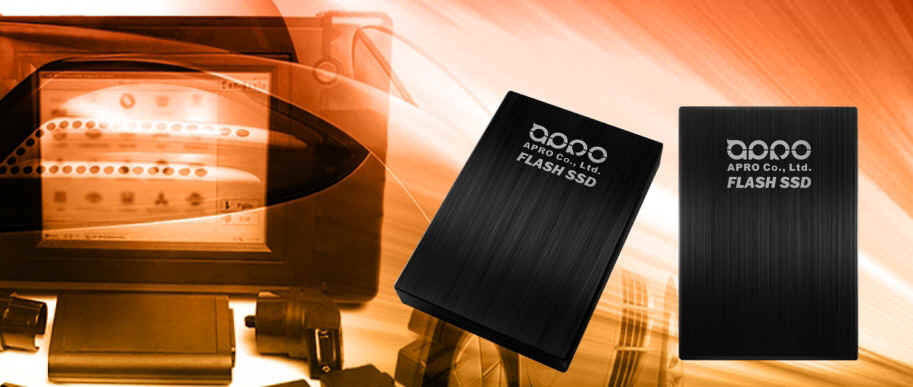 PSI supplies flash storage products that are high shock & vibration-resistant and meet military MIL-STD 810F standards.

---

APPLICATIONS
Embedded System
C Mini Server
C Vending Machine
C ATM
C Network Appliance

C KIOSK
C Portable Medical System
C Casino Gambling Machine
C Detection System
C Security System
Mission-critical applications
C Airborne radar
C In-flight map displays
C Ground-based telecom systems,
C Audio/video servers
C Mining & Marine test equipments

C Military control systems for radar, sonar
and fire control
C Factory automation,
C Robot control
C Nuclear systems control
Networking

C Fire-wall system
C Router

C Thin Client
C Terminal Client
---
PSI-APRO SLC 2.5" Industrial PATA (IDE) Flash Drives:
These drives use the Samsung NAND flash. The drives can operate against an impact up to 2000G. Meets MIL-STD 810F standards. Conformal coating is optional. These SLC PATA flash drives are great for industrial, military & marine applications.
Note:
1. Most of the PSI parts listed below are made-to-order only and if sold out there is a 2 -3 weeks lead time. If you need the drives urgently and are willing to pay extra shipping costs, we may be able to arrange a drop ship from our manufacturer to you directly.
2. Orders are non-returnable and non-exchangeable so make sure you have the right part and/or pre-approve the samples before quantity ordering. Defective cards will be covered under warranty.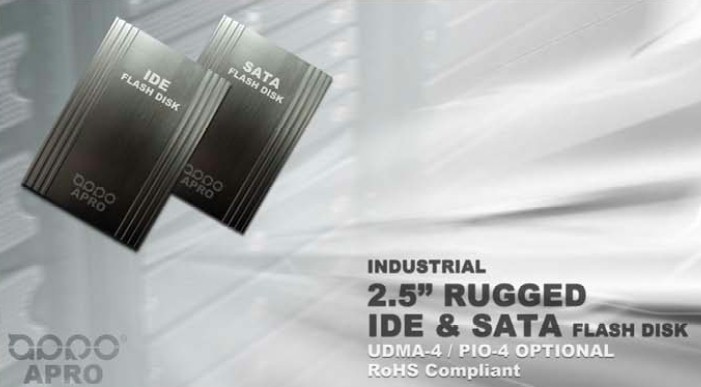 2.5" Rugged Solid-State Industrial PATA (IDE) Flash Disks
The high-speed industrial-grade 2.5" IDE flash drives below are shock and vibration-tolerant and can withstand extreme operating conditions:
Operating Temperature: 0șC ~ +70șC for standard commercial temp. cards, or
-40șC~ +85șC for wide-temperature cards.
Vibration: 15G peak-to-peak; Shock: 1500G. Meets MIL-STD 810F standards.
Altitude: 70,000 feet.
Endurance: > 3,000,000 hours and > 2,000,000 read/write cycles
Supports PIO-0 - 6 mode (16.6 MB/sec) and/or UDMA-0 - 5 (66.6 MB/sec) and wear-leveling.
-P Suffix: Supports up to PIO-4. Fixed disk mode.
-U Suffix: Supports UDMA-4 .Fixed disk mode.

Please click here for specs. of Hermit series IDE flash drives.

Click here for other MLC and SLC flash storage products
---
C1 Technology Tiger Series SLC Industrial 2.5" IDE/PATA SSDs -
C1 (Pretec) High Performance/Super-Thin 2.5?IDE Flash Disk is an SLC solid-state disk without moving parts in a 2.5-inch rugged metal enclosure that comforts to ATA specification. With advanced NAND Type Flash memory technology, the High Performance 2.5?IDE Flash Disk Series works in lower consumption, and performs with superior reliability, duration, endurance and data rotation. It is a really good replacement of a conventional hard drive and it offers the ultimate level of data protection and security features to prevent users?image file, software, critical data and products from being damaged.
Please click here for detailed data sheets.
Performance of Lynx Series SSDs:
High transfer rate up to 35MB/s read, Max. or 15MB/s write Max.
Capacity: up to 8GB.Assures high reliability based on internal ECC (Error Correcting Code) function.
MTBF (Mean Time Between Failure): more than 3,000,000 power-on hours.
Endurance: more than 3,000,000 writing / erasing times.
Operating Temperature: Supports commercial temperature and optional wide operating temperature range from -40 to +85 deg C.
Shock Tolerance: 3000G Max
Vibration Tolerance: 30G Max
Order Information:
---

We also offer industrial compact flash and secure digital (SD) cards for IPC, SBC, Embedded Systems and Mission-Critical Applications.


WARRANTY & SUPPORT. Tech support from manufacturer and PSI. For tech support and/or RMA, please go to http://www.psism.com/support.htm.

TO ORDER OR INQUIRE. Please click here to place an online order or send e-mail inquiry to sales@psism.com or call (301) 572-2168. We accept Visa, MasterCard, Discover and American Express as well as government and university POs. International orders may be conditionally accepted. Please click here to order or view our ordering information page.
All industrial flash storage flash drives and cards are made-to-order and they are for special order only. Lead time is up to 3 weeks. Special orders are non-returnable and non-exchangeable. Products are covered by manufacturer's warranty.
---
| New Products | PCMCIA Cards / Readers | Industrial / Rugged Memory Products | SRAM & Linear Flash |
| SATA & IDE Flash Drives | Industrial ATA & CF Cards | Embedded Memory | Tronlink Products |


Copyright© 1995 ~ 2016
PSISM, LLC , dba PSI ( formerly Primary Simulation, Inc. )
2963 Mozart Drive, Silver Spring, MD 20904 U.S.A.
Tel:(301) 572-2168, Fax: (301) 847-0739
10:00AM ~ 6:00PM U.S. Eastern Time
Email: sales@psism.com