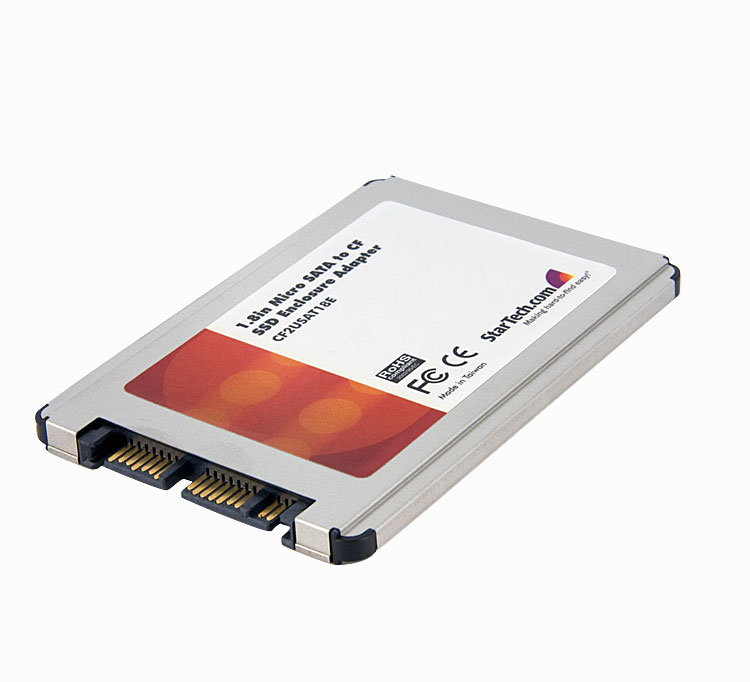 Model: 18SATACF
This Micro SATA to CompactFlash Enclosure Adapter offers a cost-effective do-it-yourself SSD solution; the adapter functions as a small form factor hard drive enclosure, allowing you to install a CompactFlash card into the enclosure for mounting in a computer in place of a 1.8in Micro SATA (uSATA) hard drive.
The adapter card lets you take advantage of the benefits that Solid State storage has to offer. With no moving parts, an SSD is the ideal addition to virtually any working environment, because it provides cooler and quieter storage than a conventional hard disk drive. Plus, Solid State drives are less susceptible to atmospheric hazards (e.g. dust particles, atmospheric changes etc.), ensuring seamless performance regardless of environmental factors.
Features:
Enclosure connects with Micro SATA data and power cable
Standard 1.8in hard drive mounting hole positions
Supports fixed mode and as bootable drive
Supports single 3.3V CF II and Compact Flash card in either MLC or SLC types. (Note - if MLC CF card, write speed will be slower at 60MB/sec.)
Applications:
Replaces 1.8in Micro SATA laptop or notebook hard drive with compact flash card which acts like a bootable solid state (SSD) drive.
Technical Specifications :

Warranty

1 Year warranty

Bus Type
Adapter
Connector Types
1 - Micro SATA Male
Dimensions
1.18" Height x 2.17" Width x 2.95" Depth
Weight: 1.24 oz

Power Consumption
5V/150mA
PRICE. Please click here for updated price.
WARRANTY & SUPPORT. Tech support from manufacturer and PSI. For tech support and/or RMA, please go to http://www.psism.com/support.htm. 1 year warranty.

TO ORDER OR INQUIRE. Please click here to place an online order or send e-mail inquiry to sales@psism.com or call (301) 572-2168. We accept Visa, MasterCard, Discover and American Express as well as government and university POs. International orders may be conditionally accepted. Please click here to order or view our ordering information page.
---
| New Products | PCMCIA Cards / Readers | Industrial / Rugged Memory Products | SRAM & Linear Flash |
| SATA & IDE Flash Drives | Industrial ATA & CF Cards | Embedded Memory | Tronlink Products |


Copyrightę 1995 ~ 2015 Primary Simulation, Inc. (PSI)
2963 Mozart Drive, Silver Spring, MD 20904 U.S.A.
(301) 572-2168, Fax: (301) 847-0739
10:00AM ~ 6:00PM U.S. Eastern Time
Email: sales@psism.com