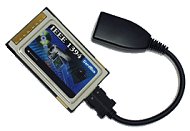 PSI supplies and distributes all kind of new Firewire products listed in below. These firewire (IEEE 1394) products can be used for WinTel PCs as well as the Mac systems.
There is a good data transmission rate comparison among USB, firewire, parallel port, SCSI, etc. devices in the USB FAQ file. You may click here to view it.
Note: Most (or all) of the firewire products will not work under Windows NT which does not support firewire ports.

1. PCMCIA Cardbus Firewire Cards, Adapters & Cables
Please click here for pricing and other information. Your laptop's PCMCIA slot must support the 32-bit cardbus in order to use this firewire products. If your laptop's CPU speed is less than Pentium 166MMX, very likely it does not support the cardbus! Even if your CPU speed exceeds P 166, you still need to make sure. Some laptops, such as Compaq Presario 1xxx models do not support Cardbus well.
2. Firewire Hard Drives & Hard Drive Kits
Please click here for pricing of Western Digital portable hard drives and other information.
3. Firewire Memory Card Reader
Our new firewire memory card reader provides the best data transfer speed to download and upload your files to different memory cards. Click here to find external firewire (IEEE1394) readers for compact flash, microdrive, 3.3V SmartMedia, SD, MMC, Memory Stick cards. Mac OS 9.1, X, Win 98SE, Me, XP & 2000

WARRANTY & SUPPORT
Warranties are covered by manufacturers

Tech Support from PSI and respective manufacturers

TO ORDER OR INQUIRE. Please click here to place an online order or send e-mail inquiry to sales@psism.com or call (301) 572-2168. We accept Visa, MasterCard, Discover and American Express as well as government and university POs. International orders may be conditionally accepted. Please click here to order or view our ordering information page.