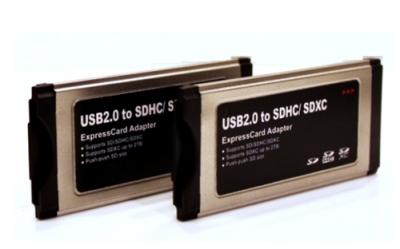 Part number: PSI-EXP-SDxc

Product Detail:

PSI-EXP-SDxc is the latest USB2.0 ExpressCard 34 Adapter, which takes most of SD/SDHC/SDXC cards in the market. This adapter takes up to max 2TB capacity is designed for future new card supporting. With a smart push-push slot is for easy insertion of SD series card.

Feature:
Compliant with USB2.0 interface

Support super high speed 480Mb/s data transfer

Support SD v. 2.0

Support SD up to 2GB, SDHC 2GB to 32GB, SDXC 32GB to 2TB Memory cards

Suport push-push card insertion

Fully CE/FCC/ RoHS compliant
Applicaton:
Camera (some cameras need to be upgraded the latest F/W for supporting SDXC
Laptop PC
Desktop PC (with ExpressCard Adapter or Reader)
Compatible:
Microsoft Windows XP, 2000, Vista, Win 7

Mac 10.1.2 or above

PRICE. Please click here for updated price.

WARRANTY & SUPPORT. Tech support from manufacturer and PSI, backed by manufacturer's warranty.

TO ORDER OR INQUIRE. Please click here to place an online order or send e-mail inquiry to sales@psism.com or call (301) 572-2168. We accept Visa, MasterCard, Discover and American Express as well as government and university POs. International orders may be conditionally accepted. Please click here to order or view our ordering information page.
| New Products | PCMCIA Cards / Readers | Industrial Memory Products | SRAM & Linear Flash |
| Embedded Memory | Consumer Electronics | Tronlink Products |


Copyrightę 1995 ~ 2011 Primary Simulation, Inc. (PSI)
2963 Mozart Drive, Silver Spring, MD 20904 U.S.A.
Tel:(301) 572-2168, Fax: (301) 847-0739
10:00AM ~ 6:00PM U.S. Eastern Time
Email: sales@psism.com