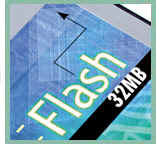 PSI/C-1 Tech AMD C/D Series Compatible Linear Flash Card
Product Overviews
Our high performance Flash memory cards conform to the PCMCIA / JEIDA international standard. Each card contains multiple AMD's Flash memory devices and decoder IC mounted on a very thin printed circuit board using surface mount technology. PSI/C-1 Tech's Linear Flash cards are fully PC Card (Type I) compatible and operate faster than hard disks, but are removable like floppy disks. Since there are no moving parts, Linear Flash cards operate reliably in conditions that can be normally hostile to data. These cards use solid-state components that can be used day-in-day-out because they are far more reliable than the moveable parts of hard drives
Linear Flash PC Cards support true random access so reads literally happen in a flash. Not only can these cards access stored data rapidly; they can also execute programs directly from the card. This opens the doors for vertical applications.
Non-volatile Linear Flash cards are used in a variety of applications, including networking and telecom equipment, industrial controls and instrumentation.

Random access, ruggedness and reliability are the basic qualities required of Linear Flash cards. Adding convenient size and low power consumption makes a sure winner.
Our Flash Memory card is a perfect choice of solid-state mass-storage cards for Palmtops, Hand-held devices, Sub-notebook PC, PDA, PCA, or Digital Cameras equipped with PC Card slots supporting Series II/II+ flash cards. With the optional 2K or 8K bytes "attribute memory" space, the Card Information Structure (CIS) can be written into the card at the factory with standard format or customized requirements. (Customers can only read rather than write into the CIS).
PSI/C-1 Tech's Linear Flash PC Cards are offered in a variety of read/write voltages. Typical access times are 150ns. However, some faster cards are available.

| | | | | |
| --- | --- | --- | --- | --- |
| Product | Compatibility | Capacities* | CIS in EPROM | Flash Type |
| FAD Series | AMD D Series | 4, 8, 12, 16, 20, 24, 28, 32MB | Standard | 29F017B |
| FAC Series | AMD C Series | 1, 2, 4MB | Standard | |
Temperature range available: (1) Commercial: 00C to +700C
(2) Industrial/Extended: -400C to +850C
ORDERING INFORMATION
Part Number Guide:

AMD D-Series Compatible
P/N - Description
FAD004 - 4MB Linear Flash PC card
FAD008 - 8MB Linear Flash PC card
FAD012 - 12MB Linear Flash PC card
FAD016 - 16MB Linear Flash PC card
FAD020 - 20MB Linear Flash PC card
FAD024 - 24MB Linear Flash PC card
FAD028 - 28MB Linear Flash PC card
FAD032 - 32MB Linear Flash PC card

FEATURES
Industry standard PCMCIA 2.x compliant

PCMCIA Type I form factor

Single 5-Volt read, write, and erase

Embedded programming algorithms at device level automatically writes and verifies data

Extremely rugged and reliable

Very low power consumption with automatic power management

No battery required for data retention or backup

Byte-wide (8bit) or word-wide (16bit) operation

Mechanical Write protect switch prevents overwriting valuable data

Erase Suspend/Resume feature allows the user to suspend an erase operation and read data from any other sector on the card

Device level hardware block protection disables any combination of blocks (4 sectors) from write/erase operation

Supports for XIP (Execution-In-Place) eliminates the need for redundant DRAM

Applications for PC, PDA, PCA, Industrial Control, Embedded System, Instrumentation, Communication, etc.

Options:

Attribute memory (256bytes or 2Kbytes)

Industrial temperature version

Custom 8-bit databus only version

Custom 16-bit databus only version
SPECIFICATIONS
Dimensions:

Storage Capacities:

4, 8, 12, 16, 20, 24, 28, 32 and 40MB

System Compatibility:

Apple Newton Message Pad 120 with OS 2.0 and above

Apple Newton Message Pad 130

Apple Newton Message Pad 2000

IBM compatible Notebook PCs, Laptops, Palmtops, or Hand-held devices, etc.

Third Party Software Support:

Operating System Support:

Performance:

Read Access time: 150ns (Max.)

Random Write Access: 8 µ (Typical)

Reliability:

Operating Voltage:

Power Consumption:

Read access: 60 mA (max)

Write/Erase: 120 mA (max)

Standby mode: 100 uA (max)

Environment conditions:

Operating temperature: 0°C to 70°C

Storage temperature: -40°C to 125°C

Relative Humidity: 95% (Max.)
PRICE
Please click here for up-to-date prices.

WARRANTY & SUPPORT
1 year warranty

Tech Support from PSI and respective manufacturers

If you need to access your data on the flash cards using a Windows PC, please check here.

TO ORDER OR INQUIRE. Please click here to place an online order or send e-mail inquiry to sales@psism.com or call (301) 572-2168. We accept Visa, MasterCard, Discover and American Express as well as government and university POs. International orders may be conditionally accepted. Please click here to order or view our ordering information page.
---
| New Products | PCMCIA Cards / Readers | Industrial / Rugged Memory Products | SRAM & Linear Flash |
| SATA & IDE Flash Drives | Industrial ATA & CF Cards | Embedded Memory | Tronlink Products |


Copyright© 1995 ~ 2016
PSISM, LLC , dba PSI (formerly Primary Simulation, Inc. )
2963 Mozart Drive, Silver Spring, MD 20904 U.S.A.
Tel:(301) 572-2168, Fax: (301) 847-0739
10:00AM ~ 6:00PM U.S. Eastern Time
Email: sales@psism.com