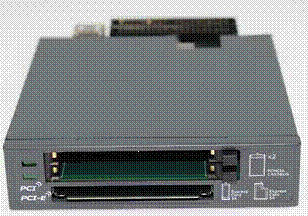 Model : PCD-TP-EXP
Combo PCMCIA/ CARDBUS & ExpressCard 34/54mm Drive
FEATURES:
3-in-1 design for 16-bit PCMCIA cards + 32-bit Cardbus Cards + ExpressCard 34/54 Cards

Supports 2-slot PCMCIA/Cardbus & 1-slot ExpressCard 34/54 cards

Supports wide range of PCMCIA &Cardbus cards (e.g. Panasonic P2/ 3G/ WLAN/ ATA Flash/ eSata /IEEEE 1394/ Flash memory adapter etc.).

Supports USB ExpressCard plug and play. (No PCIe hot swap)

No driver required for Win 2000/XP/Vista/ 7/8/10
SPECIFICATIONS:
PCI interfaces compatible with 3.3V and 5V PCI signaling environment.
Supports Mix-and-match 5V/3.3V 16bits PC cards.


Supports 32bit Cardbus Cards.


Dual PC Card Slot with hot insertion and removal.


Two I/O windows and two memory windows available to each PCMCIA / Cardbus socket


Supports Type I/ II/ III PCMCIA.


PCIe interface compatible with 1.5V, 3.3V and 3.3 AUX PCIe signaling environment.


Supports all ExpressCard 34/54mm.


USB-based ExpressCards are HOT-SWAPPABLE. PCIe mode Expresscards are not HOT-SWAPPABLE.


Sanyo OS-CON Solid Capacitor design.


Compatible with Microsoft Windows Vista™ and future versions


Microsoft Windows 2000, XP, VISTA and 7.


Mac OS 10.4.10


Fully RoHS compliant


Input: PCMCIA/ PC Card, Cardbus Card, and ExpressCard 34/54mm


Output: PCI & PCIe X1


Power Consumption: PCI

_ 3.3V~5V


PCIe_1.5V, 3.3V and 3.3AUX


Supporting OS: 2000/XP/Vista/ WIN7


Safety approval: CE/ FCC/ RoHS


Dimension: 134 mm * 101 mm * mm


Weight: 630 g
Note: USB-based ExpressCards are HOT-SWAPPABLE. PCIe mode Expresscards are not HOT-SWAPPABLE.
PACKAGE CONTENT:
1. Reader, 2. PCI Board, 3. PCIeBoard, 4. PCIe Cable,
5. ATA Cable, 6. USB Cable, 7. Screws (x4) 8. Click here for Manual

PRICE. Please click here for updated price.

WARRANTY & SUPPORT. Tech support from manufacturer and PSI. 1 year warranty. For tech support and/or RMA, please send email to sales@psism.com.


TO ORDER OR INQUIRE. Please click here to place an online order or send e-mail inquiry to sales@psism.com or call (301) 572-2168. We accept Visa, MasterCard, Discover and American Express as well as government and university POs. International orders may be conditionally accepted. Please click here to order or view our ordering information page.
---
| New Products | PCMCIA Cards / Readers | Industrial / Rugged Memory Products | SRAM & Linear Flash |
| SATA & IDE Flash Drives | Industrial ATA & CF Cards | Embedded Memory | Tronlink Products |


Copyright© 1995 ~ 2017
PSISM, LLC , dba PSI ( formerly Primary Simulation, Inc. )
2963 Mozart Drive, Silver Spring, MD 20904 U.S.A.
Tel:(301) 572-2168
10:00AM ~ 6:00PM U.S. Eastern Time
Email: sales@psism.com