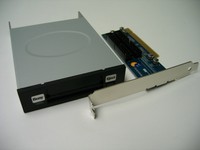 Models PCD110CS-W (white/beige) and PCD110CS-B (black), using TI-PCI1510 controller.
15" Flat cable is provided.

PCD110CS (or PCD-TP-110CS) is a high-performance PCI-to-PC Card Drive Unit that supports one independent card socket compliant with the 16/32-bit PC Card standard defined in 1997 PC Card Standard.

Provides a rich feature set that makes it the best choice for bridging between PCI and PC Card in desktop computers.

Compliant with the 16-bit PC Card specification defines in PCMCIA Release 2.1 and JEIDA 4.2 and can supports any combination of 16-bit or 32-bit PC Card in the one socket, powered at 5V or 3.3V as required.

The host system interface of PCD-TP-110CS is compliant with the PCI Local Bus specification 2.2.

PCD110CS is register set compatible with Intel 82365SL controller and compatible with ExCA, it enables the PCD110CS to support almost all of the PC Card applications including: SRAM card, 5V Linear Flash card, ATA Flash card, Modem card and Wireless LAN card.

The only real front 16-bit + 32-bit universal reader that supports all kinds of PCMCIA cards! Best Seller!
It's recommended for Dexis program.

FEATURES:

◎ PCD110CS provides one front-access PCMCIA / CardBus socket solution for PC.
◎ PCI Local Bus Specification Revision 2.2 compliant. Uses a low-profile PCI interface card.* See note below
◎ PCMCIA 2.1, JEIDA 4.2 compliant. 3.3V, 5.0V, or mixed 3.3V/5.0V operation.
◎ Intel 82365SL register compatible, ExCA compatible.
◎ The 3.5" front Drive Unit with built-in one socket is connected to the PCI Interface Board by using the flat ribbon cable.
◎ There are one PC card socket that can be used for Type I / Type II / Type III PC Card in this unit.
◎ Support IRQ steering (PCMCIA -16Bit), native driver built in Windows XP. (Win 7, 64 bits is a hit or a miss)
◎ Support IRQ steering (PCMCIA -16Bit), optional driver provided in Windows Me or Windows 2000

*: Note:
The interface card itself will fit a regular or low-profile PCI slot, however, the attached metal bracket is of regular height. To use on a low-profile desktop PC, you may remove the metal bracket from the PCI interface card.

SPECIFICATIONS:
Socket:
Supports PC Cards (Type I/II/III)
PCMCIA: 8/16 Bit, 8 MHz, 3.3/5V.
CardBus: 32 Bit, 33 MHz, 3.3 V.

Power Information:
Power Voltage@PCI DC 3.3V/5V/12V
PC Card Socket DC 3.3 V/5V @1A

Physical Characters of PC Card Drive
Length: 147.7+/-0.5mm
Width: 101.6+/-0.5mm
Height: 26.2+/-0.5mm
Weight: (w/o cable) 360g

Physical Characters of PCI Interface Card
Length: 4 11/16" or 119.1 mm
Width: 1 3/8" or 34.9 mm



Data Transfer Rate(Max)
CardBus Mode: up to 132 Mbytes/sec

Enviroment
Temperature
Operating: 0 C to 70 degree C
Storage: -55 to 125 degree C
Relative Humidity
Operating R.H.% 0-70%
Storage R.H. % 0-95%

Interface:
Low-profile PCI to PCMCIA/CardBus Interface with TI-PCI1510 controller in the box. The full-height metal bracket on the interface card can be removed. (See picture at the top.)
PRICE. Please click here for updated price.

WARRANTY & SUPPORT. Tech support from manufacturer and PSI. 1 year warranty. For tech support and/or RMA, please go to http://www.psism.com/support.htm.


TO ORDER OR INQUIRE. Please click here to place an online order or send e-mail inquiry to sales@psism.com or call (301) 572-2168. We accept Visa, MasterCard, Discover and American Express as well as government and university POs. International orders may be conditionally accepted. Please click here to order or view our ordering information page.
---
| New Products | PCMCIA Cards / Readers | Industrial / Rugged Memory Products | SRAM & Linear Flash |
| SATA & IDE Flash Drives | Industrial ATA & CF Cards | Embedded Memory | Tronlink Products |


Copyrightę 1995 ~ 2016
PSISM, LLC , dba PSI ( formerly Primary Simulation, Inc. )
2963 Mozart Drive, Silver Spring, MD 20904 U.S.A.
Tel:(301) 572-2168, Fax: (301) 847-0739
10:00AM ~ 6:00PM U.S. Eastern Time
Email: sales@psism.com