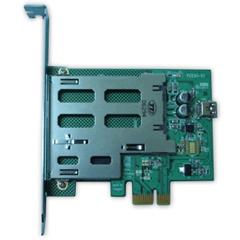 Model : PCE01

The Latest PCI Express supports 2.5Gb/s data rate for a fastest data transfer. This PCE01 accepts both 34mm and 54 mm express card and allows express card's Hot- Plug and hot swap without power off the system. The PCE01 is an easy and quick installing to extend more applications for personal desktop PC using.

Features

Ų

Supports 34mm & 54mm Express Card

Ų

Push- Push mechanism for easy insertion of Express Card

Ų

Install in PCI Express Bus

Ų

Supports 2.5Gb/s fast data rate

Ų

Enable Hop- Plug and hot swap

Ų

Maximize card interoperability for user flexibility

Ų

Better Mini USB 2.0 connector to USB Host connection.

Things to Know when Using the Reader
There are two interfaces of ExpressCard: PCI-E ExpressCard and USB 2.0 ExpressCard. Standard Type and Advanced Type card reader accept both PCI-E and USB 2.0 ExpressCard, but the Basic Type card reader only accepts USB 2.0 ExpressCard.
When using the USB 2.0 ExpressCard, the system will automatically identify the ExpressCard and add new device at the insertion of the card.
When using the PCI-E ExpressCard, the system cannot automatically identify new device, so the user need to add new device manually.
After inserting the PCI-E ExpressCard, please do following procedure and enter:
Control Panel System Hardware Device Manager
Scan for Hardware Changes.
After the scan, the system will identify the ExpressCard and add new device.
The card reader does not require any driver to be installed. It is when a device is plug into the reader that the system would detect that device and ask for a driver for the ExpressCard.
Although the reader supports Hot-Swap function, we still suggest the
ExpressCard should be inserted before power on the system.
Input:

34mm Express Cards

54mm Express Cards

Output:

PCI Express

USB 2.0

PCI Express Transfer rate:

2.5Gbit/sec (5Gbit/sec)

USB Transfer rate:

480Mbit/sec

Supporting OS

98/98SE/2000/ME/XP/Vista

MAC10.1.3 above

Safety approval:

CE/FCC/VCCI/BSMI

Dimension:

90mm *69mm * 12mm
PRICE. Please click here for updated price.

WARRANTY & SUPPORT. Tech support from manufacturer and PSI. 1 year warranty. For tech support and/or RMA, please go to http://www.psism.com/support.htm.

TO ORDER OR INQUIRE. Please click here to place an online order or send e-mail inquiry to sales@psism.com or call (301) 572-2168. We accept Visa, MasterCard, Discover and American Express as well as government and university POs. International orders may be conditionally accepted. Please click here to order or view our ordering information page.
---
| New Products | PCMCIA Cards / Readers | Industrial / Rugged Memory Products | SRAM & Linear Flash |
| SATA & IDE Flash Drives | Industrial ATA & CF Cards | Embedded Memory | Tronlink Products |


Copyright© 1995 ~ 2011 Primary Simulation, Inc. (PSI)
2963 Mozart Drive, Silver Spring, MD 20904 U.S.A.
Tel:(301) 572-2168, Fax: (301) 847-0739
10:00AM ~ 6:00PM U.S. Eastern Time
Email: sales@psism.com