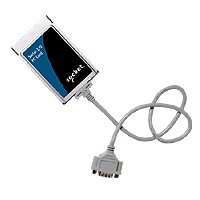 Model - SL0707-078 Vendor- Quatech/Socket Communication
PCMCIA Ruggedized Serial I/O PC Card
Features
Now you can add a high-speed RS-232 serial COM port to your mobile computer and maximize your connectivity with speeds up to 921 Kbps. Attach external modems, bar code scanners, mag stripe readers, GPS receivers, court reporting stenograph machines or other RS-232 serial devices to your Windows 95OB/98SE/2000/Me/XP devices. These Mobility Friendly™ cards are the world's lowest power and most popular PC Card serial adapters.
Comes with the Hi-Speed COM Tools and drivers which enable users to re-map legacy baud rates to higher speeds such as 230.4, 460.8, or 921.6 Kbps.
Comes with advanced features to set custom baud rates
Provides the ability to quickly identify and change COM port assignments
One RS-232 serial ports
Includes industry standard DB-9 Connector
Provides standard 16550 compatible UARTS and compatibility with 16650, 16750 & 16950
Includes UARTS that contain 128 byte FIFO (twice the size of other solutions)
Provides hardware flow control
Comes in CompactFlash or PC card versions with Ruggedized or removable cables
Comes with Plug & Play and hot-swapping capabilities
Operates in both 3.3V and 5V Systems
Uses low power for longer battery life (typical current draw at 3.3v is 2.4mA)
Is compatible with Windows 95OB/98/98SE/Me/2000/XP, Windows CE - HPC Pro 2.11, HPC 2000, and Pocket PC 2000, 2002 & 2003
For Sharp Zaurus support see, www.socketcom.com/ZaurusSharp.asp
Includes Limited Lifetime Warranty versus the industry standard warranty of five years
Specifications
Size
3.37 x2.13 x 0.197 in
(85.6 x 54 x 5 mm)
Cable length
17 in (432 mm)
Connector
9-Pin D Shell Male
Power Consumption
Standby: 5 mA
Typical: 13 mA
Baud Rate
Up to 921.6 Kbps **
PC Computer Support
All notebooks, Handheld PCs and Pocket PCs with Type II or III slot
OS Support
- Windows 950B
- Windows 98
- Windows 98SE
- Windows Me
- Windows 2000
- Windows XP
- Windows CE HPC Pro 2.11
- Windows CE HPC 2000
- Windows CE Pocket PC 2000
- Windows CE Pocket PC 2002
- Windows CE Pocket PC 2003
Certification
FCC: Part 15, Class B
CE: EN55024:1998
C-TICK s.182
Warranty
Removable Cable: 90 days from manufacturer
Limited Lifetime from manufacturer. Past Exchange-Call Socket 510-744-2720
PRICE. Please click here for updated price
WARRANTY & SUPPORT. Tech support from manufacturer and PSI. For tech support and/or RMA, please go to http://www.psism.com/support.htm.

TO ORDER OR INQUIRE. Please click here to place an online order or send e-mail inquiry to sales@psism.com or call (301) 572-2168. We accept Visa, MasterCard, Discover and American Express as well as government and university POs. International orders may be conditionally accepted. Please click here to order or view our ordering information page.
---
| New Products | PCMCIA Cards / Readers | Industrial / Rugged Memory Products | SRAM & Linear Flash |
| SATA & IDE Flash Drives | Industrial ATA & CF Cards | Embedded Memory | Tronlink Products |


Copyright© 1995 ~ 2011 Primary Simulation, Inc. (PSI)
2963 Mozart Drive, Silver Spring, MD 20904 U.S.A.
Tel:(301) 572-2168, Fax: (301) 847-0739
10:00AM ~ 6:00PM U.S. Eastern Time
Email: sales@psism.com