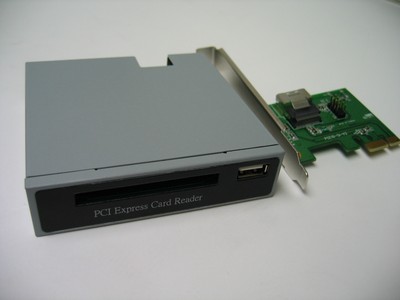 Front Single-Slot ExpressCard Reader, Model: PCE10
PSI's PCIe to ExpressCard Drive Read-Writer Front Low Profile enables PCIe based desktop computers to utilize ExpressCard applications. This industrial grade reader accepts both ExpressCard 34 and 54 cards, and is completely transparent to any card inserted. Plug the included USB cable into an available port (preferably internal header type), plug the reader into an open PCIe slot, install the 3.5inch drive bay enclosure, and installation is complete! The device itself requires no drivers. The PCIe 1X configuration allows for the full 250MB/s (megabytes) throughput for PCIe based ExpressCards, while the USB 2.0 configuration allows USB 2.0 ExpressCards to operate at their 480Mb/s (megabits) speed. The backplane plate on the PCIe card is MD-1 low profile compliant and the 3.5" drive bay enclosure provides an additional USB 2.0 port. A great way to share devices between modern laptops and desktops, the PCIe to ExpressCard 54 reader is an smart addition for desktop machines.
Features and Specifications
Features

Easy Installation, Plug and Play. Install in the front of PC 3.5" drive bay
Accepts both 54 and 34 ExpressCard modules. Hot-swappable.
Push-Push mechanism for easy insertion of Express Card
Locates ExpressCard slot
Better Mini USB 2.0 connector to USB Host connection. Supports 480Mb/s USB 2.0 express card.
Supports max 5 Gb/s express new card.

System Requirements for PC

One PCI Express (PCIe 1X) slot
One free USB 2.0 port (preferably internal header type)
Windows 2000/XP/Server 2003/Vista/7/8/10
Unsupported, but known to work with other operating systems supporting PCIe and USB 2.0, including Linux

Package Includes

PCIe Cable
PCIe Host Adapter Card
PCI Express to ExpressCard Drive 3.5" Enclosure
USB mini-b to internal header type cable (removable)
User guide documentation

Standards Compliance

PCI Express
ExpressCard
CE/FCC/VCCI/BSMI

Physical Dimensions

Operating Environment

Operating temperature: 0?C to 60?C
Storage temperature: -20?C to 80?C
Relative Humidity: 0% to 90% non-condensing

Things to Know when Using this Reader:
There are two interfaces of ExpressCard: PCI-E ExpressCard and USB 2.0 ExpressCard. Standard Type and Advanced Type card reader accept both PCI-E and USB 2.0 ExpressCard, but the Basic Type card reader only accepts USB 2.0 ExpressCard.


When using the USB 2.0 ExpressCard, the system will automatically identify the ExpressCard and add new device at the insertion of the card.


When using the PCI-E ExpressCard, the system cannot automatically identify new device, so the user need to add new device manually:
After inserting the PCI-E ExpressCard, please do following procedure and enter:
Control Panel > System > Hardware > Device Manager .
Scan for Hardware Changes.
After the scan, the system will identify the ExpressCard and add new device.


The card reader does not require any driver to be installed. You do need the driver for your ExpressCard! It is when a device is plug into the reader that the system would detect that device and ask for a driver for the ExpressCard.


Although the reader supports Hot-Swap function, we still suggest the ExpressCard be inserted before power on the system.
PRICE. Please click here for updated price.

WARRANTY & SUPPORT. Tech support from manufacturer and PSI. 1 year warranty. For tech support and/or RMA, please go to http://www.psism.com/support.htm.

TO ORDER OR INQUIRE. Please click here to place an online order or send e-mail inquiry to sales@psism.com or call (301) 572-2168. We accept Visa, MasterCard, Discover and American Express as well as government and university POs. International orders may be conditionally accepted. Please click here to order or view our ordering information page.
---
| New Products | PCMCIA Cards / Readers | Industrial / Rugged Memory Products | SRAM & Linear Flash |
| Embedded Memory | Consumer Electronics | Tronlink Products |


Copyrightę 1995 ~ 2017
PSISM, LLC , dba PSI ( formerly Primary Simulation, Inc. )
2963 Mozart Drive, Silver Spring, MD 20904 U.S.A.
Tel:(301) 572-2168
10:00AM ~ 6:00PM U.S. Eastern Time
Email: sales@psism.com